From fashion to furniture: How Jonathan Saunders is bringing colour into our homes
Looking back at the impact of the work of the Scottish fashion designer Jonathan Saunders in the Noughties, the fashion critic Sarah Mower wrote in US Vogue that the Central Saint Martins graduate had 'led the London print and color revolution, which, post 9/11, brightened up the gloom of the times'.
Jonathan was a darling of the fashion scene, designing prints for Alexander McQueen, consulting for Chloé and Emilio Pucci, and launching his eponymous label, which was worn by women as diverse as Lady Gaga and Kate Middleton. That closed in 2015 and he was named chief creative officer at Diane Von Furstenberg's DVF a few months later. When he stepped down from that role in 2017, you might have thought he would pop up at the helm of some other major label. Instead, earlier this year, he launched Saunders Studio, his own homeware brand based in New York and, with it, his debut 15-piece furniture collection: 'Rhythms of Color'.
Scottish fashion designer Jonathan Saunders on his impressive new furniture collection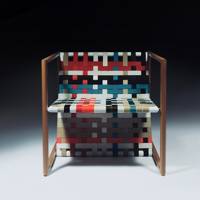 NEWS
Scottish fashion designer Jonathan Saunders on his impressive new furniture collection
It is not an altogether surprising transition: as an undergraduate at the Glasgow School of Art, Jonathan designed furniture as well as textiles. Over the years, he has often referred to his love of the Bauhaus. He also admires Allen Jones (Pop art), Victor Vasarely (Op art), Donald Judd (minimalism) and Ettore Sottsass (postmodernism). Tying these names together is a dynamic use of colour that has always been present in Jonathan's work.
Aimed at the collectors' market, his new collection was launched at Frieze Los Angeles in February. It includes chairs, benches, shelving units and tables in tubular metal, dyed-wood marquetry and nylon-mesh latticework. The striking pieces are probably best enjoyed individually or in pairs: a little would go a long way.