30 COMFORT FOOD RECIPES FOR FALL
jump to recipeprint recipe
These 30 Comfort Food Recipes for Fall are hearty, cozy and delicious – perfect for fall nights around the dinner table.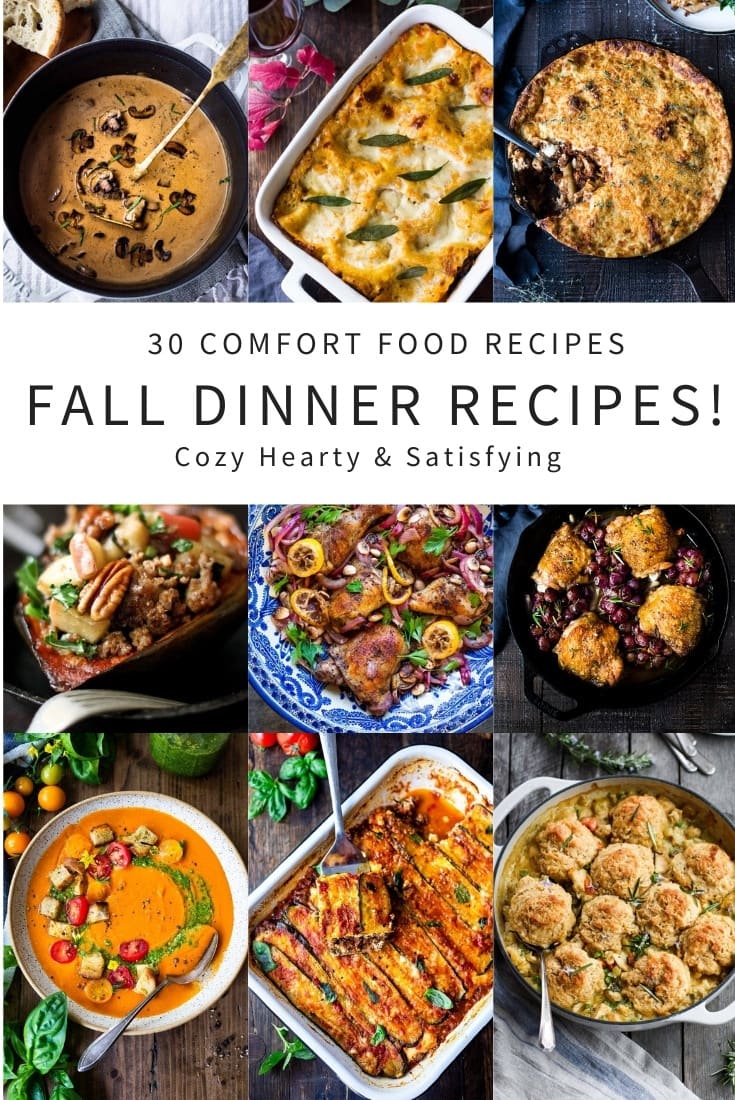 This time of year, life moves at lightning speed.  It seems to be the nature of the season- a gradually revving up, building,  towards the holidays. Days become shorter, colder and our appetites change as well. As fall gets underway, we start to crave cozy, heartier, meatier, comfort food recipes, warming to both body and soul.
If you've been on the blog a while, you'll know that most of the recipes you'll find here tend to be on the lighter, healthier side (like these Vegetarian Recipes for Fall). But I don't judge or label food as good or bad. These fall recipes feature here are more of the "stick-to-your-bones" type.  Rich, decadent and meaty. And while I don't cook this way every day, there is a place for them, especially when shared around the table. 
Comfort food, in moderation, can be incredibly nourishing on the soul level. Not just the eating of it, but particularly in the act of making it. Making comfort food can be really comforting if we allow it – the perfect way to spend a slow and lazy Sunday.
Sharing it with others feels especially good too. Many of these comfort food recipes can be made ahead– perfect for fall gatherings or the holiday table. Here are a few of my favorite comfort food recipes for fall and winter. Hope you enjoy!
---
COZY FALL COMFORT FOOD RECIPES
LENTIL BOLOGNESE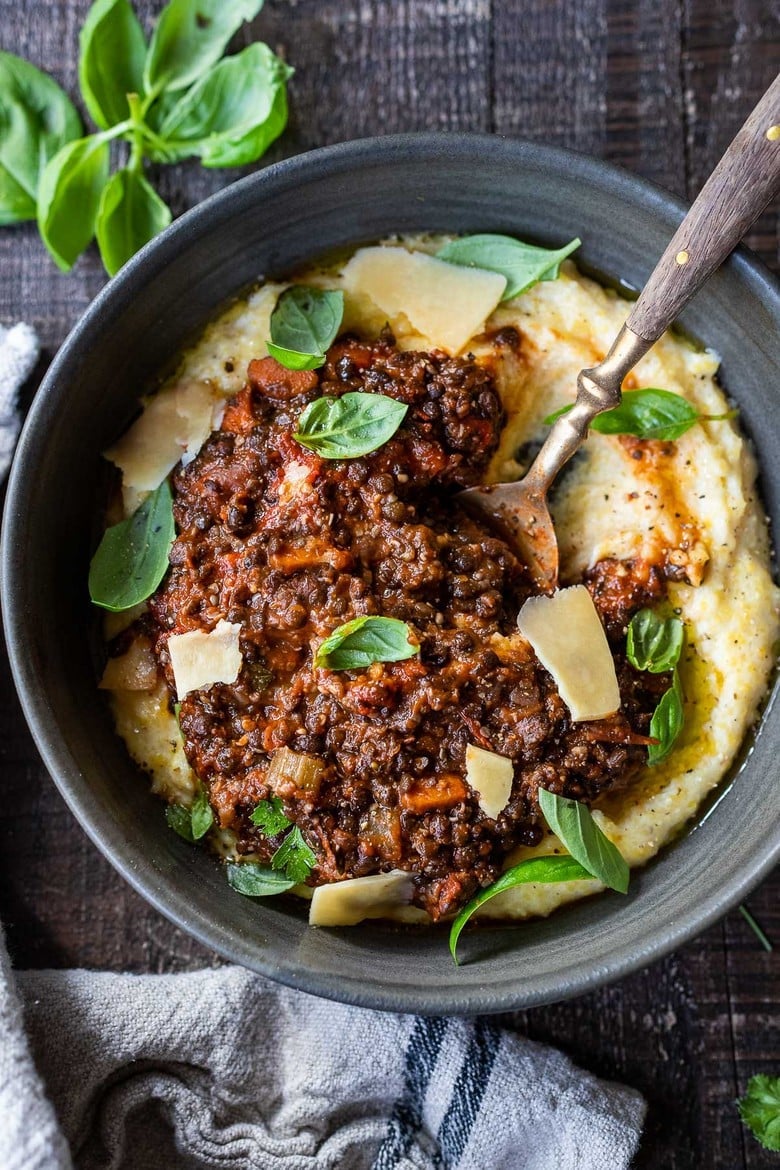 Rich and robust, this plant-based Lentil Bolognese is hearty, "meaty" and full of depth of flavor. Toss it with your favorite pasta, or spoon it over creamy polenta- either way, this simple nourishing vegan meal is one the whole family will enjoy.
CREAMY MUSHROOM SOUP WITH ROSEMARY AND GARLIC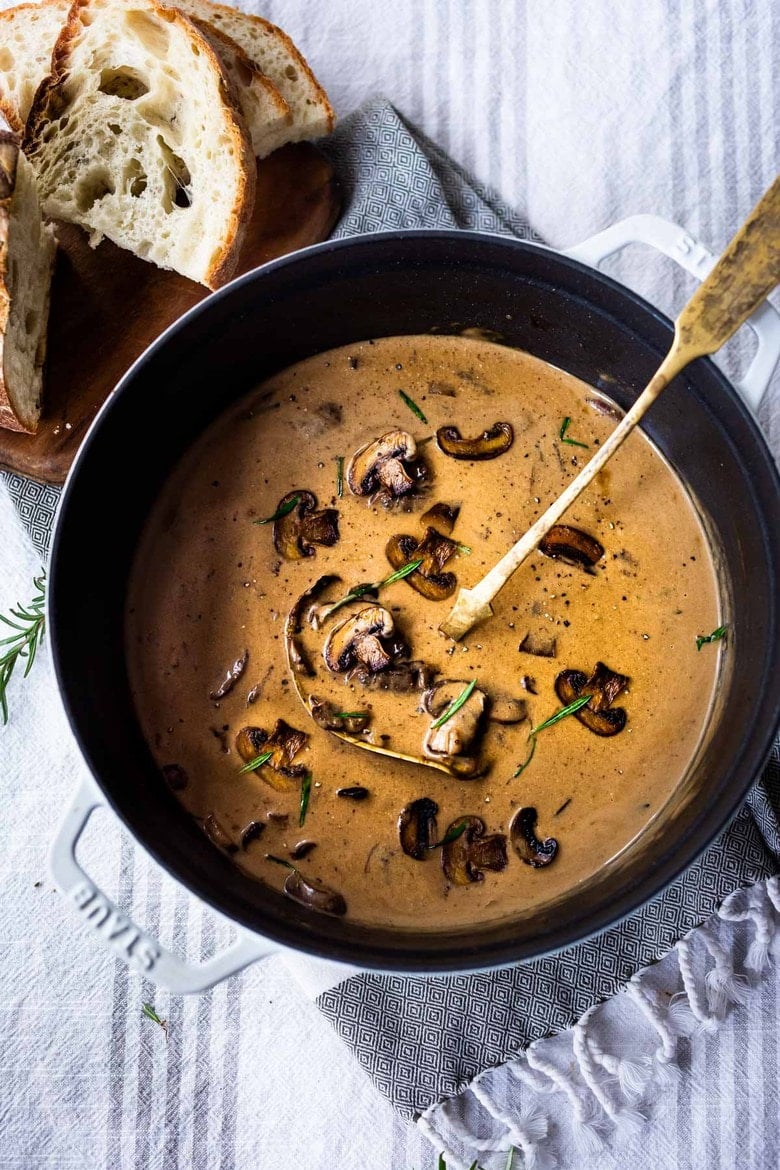 A simple recipe for Creamy Mushroom Soup with Rosemary and Garlic – falvoful and hearty enough to stand alone as a main course. Keto-friendly and elegant enough for fall gatherings or simple enough for fall weeknight dinners! Serve this with crusty bread for a simple hearty meal!
PASTITSIO!
 A  baked pasta dish,
Pastitsio!  hailing from Greece with a rich bolognese sauce made with ground lamb, infused with Greek spices and herbs. Perfect for fall entertaining and can be made ahead! Ridiculously decadent and delicious, yet one of my favorites!
ROSEMARY CHICKEN THIGHS WITH ROASTED GRAPES AND SHALLOTS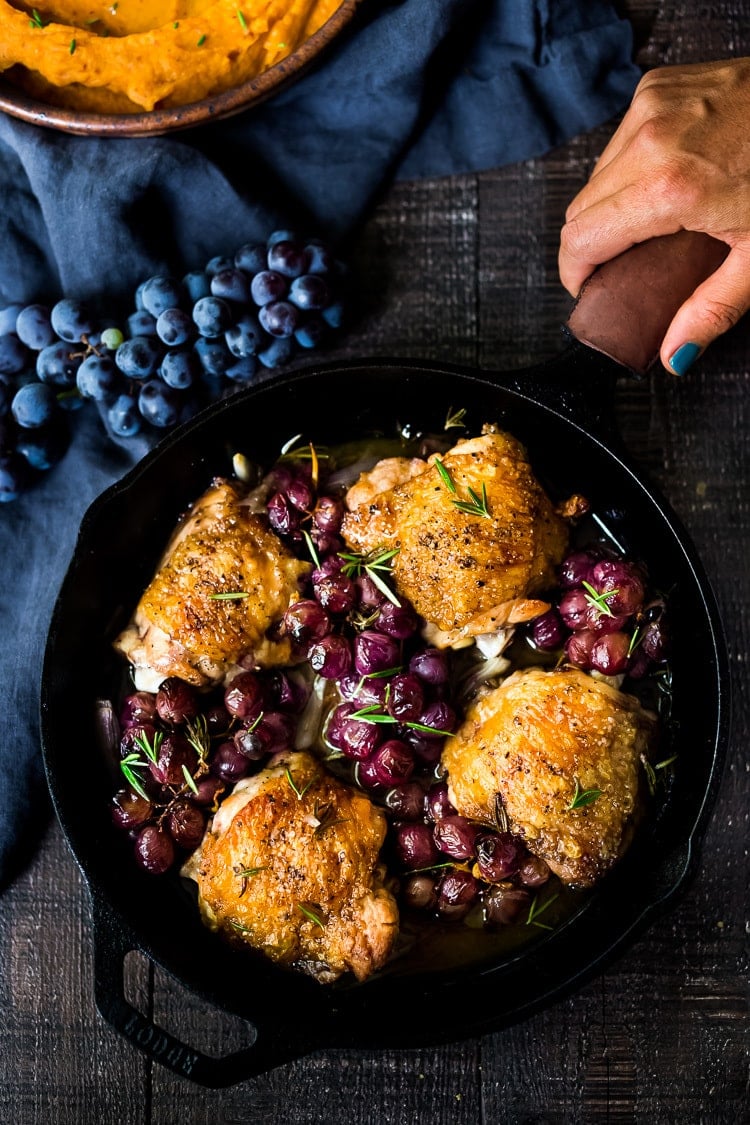 The beginning or fall marks grape season! Here we're roasting them and pairing time up with Rosemary Chicken Thighs
and shallots, serving them over
Whipped Ginger Sweet Potatoes
– a simple, easy, fall-inspired skillet dinner that can be made in 30 minutes!
BUTTERNUT LASAGNA WITH WILD MUSHROOMS AND SAGE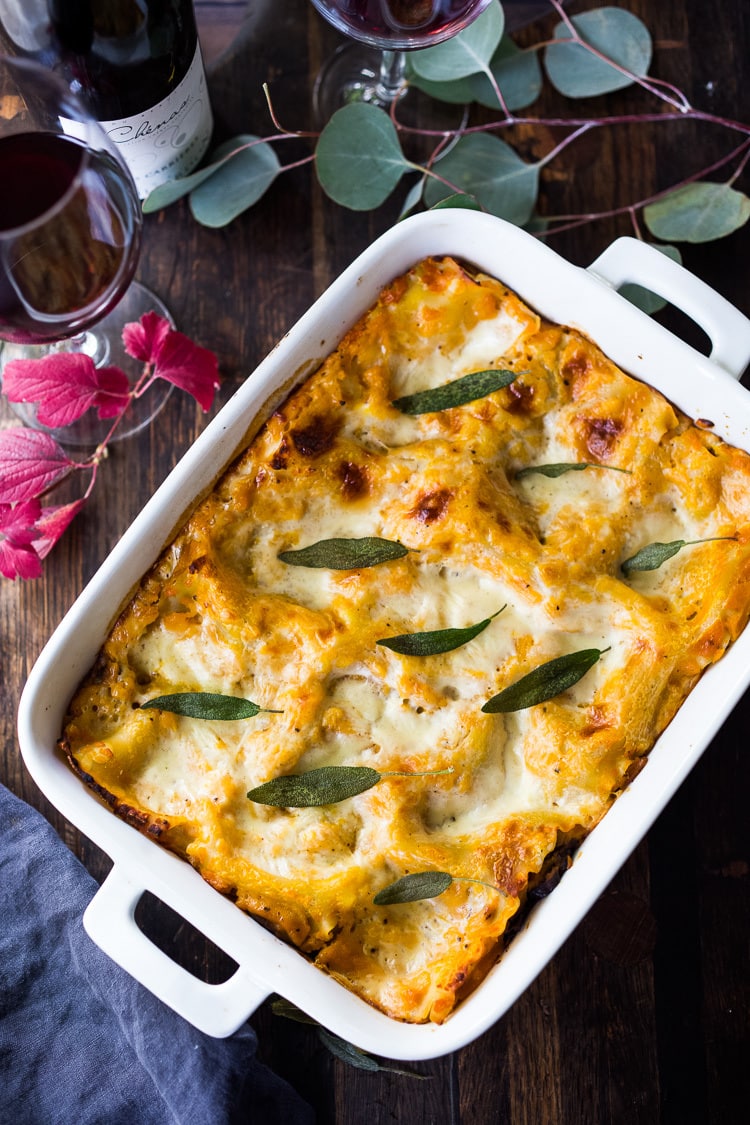 One of the coziest fall meals, this Butternut Lasagna with Mushrooms and Sage is utterly delicious, vegetarian, perfect for the fall gatherings or the holiday table! Can be made ahead!
CHICKEN POT PIE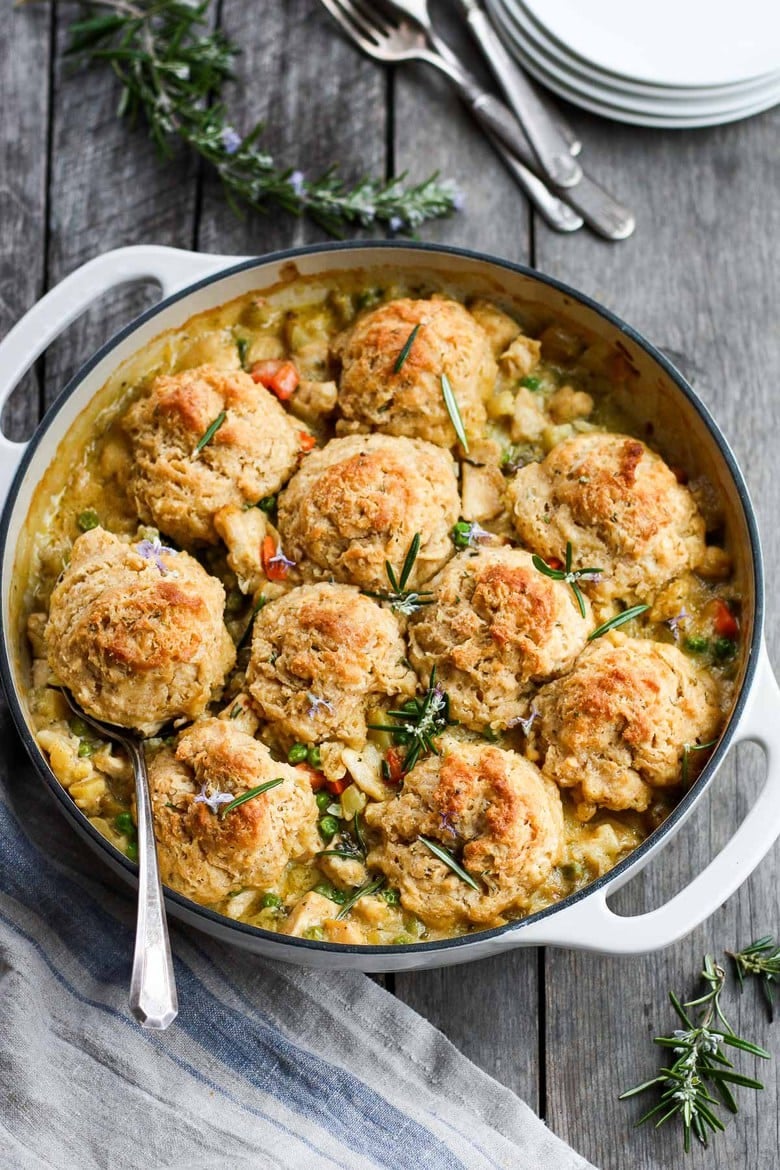 This
Classic Chicken Pot Pie is taken up a notch with fresh herbs and a quick and easy biscuit crust. Filled with chicken and tender veggies, in a creamy wine sauce it's pure comfort food!
ZUCCHINI LASAGNA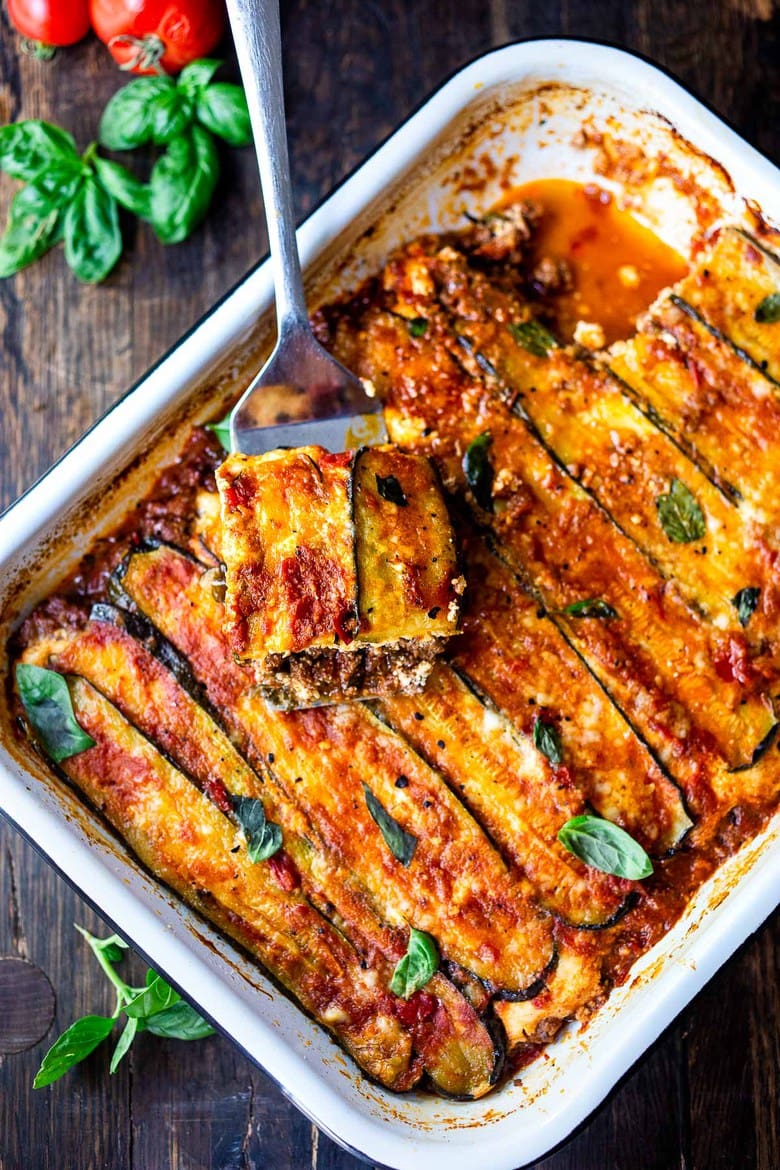 A robust and hearty fall recipe for Zucchini Lasagna made without noodles for a low-carb, keto version of one of our favorite meals! Vegetarian adaptable and Gluten-free.
HOMEMADE TOMATO SOUP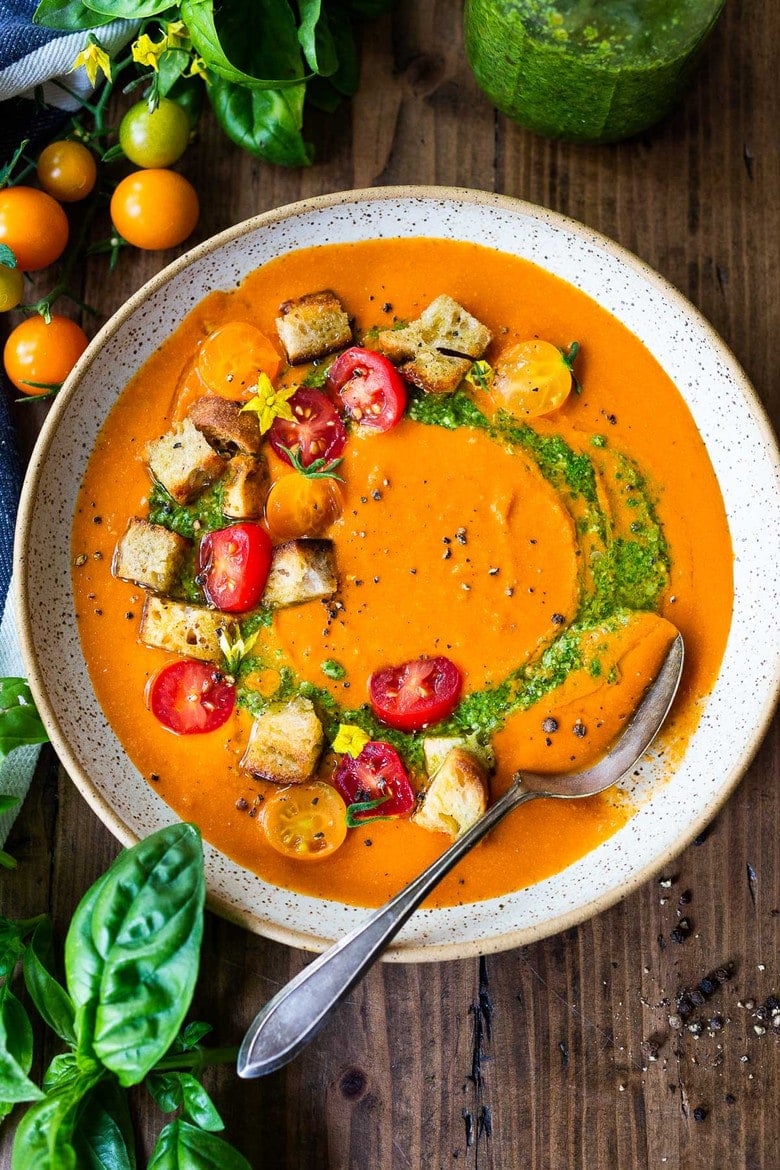 What is better than a comforting bowl of homemade Tomato Soup? One of my favorite fall recipes, this Homemade Tomato Soup
is made with fresh or canned tomatoes, made in under 30 minutes. Creamy, easy and Vegan-adaptable
STUFFED ACORN SQUASH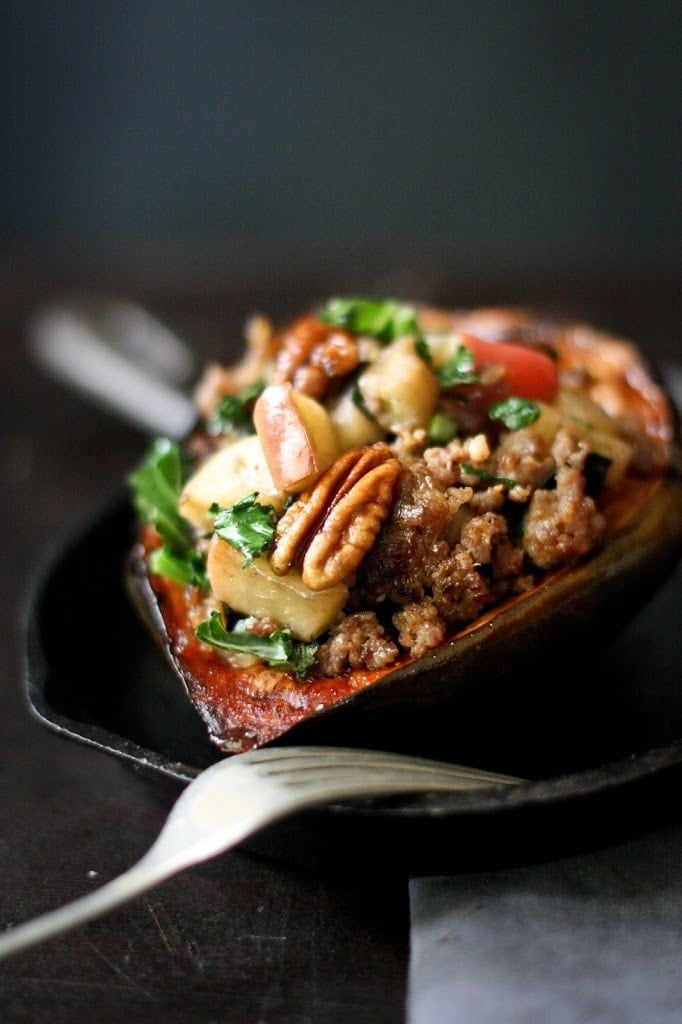 Stuffed Acorn Squash
with Sausage, Apple, kale, Parsnips,
Pecans
and Sage- a delicious fall meal. Leave out the sausage or use vegan sausage for a vegetarian option.
WHITE CHICKEN (OR CAULIFLOWER) ENCHILADAS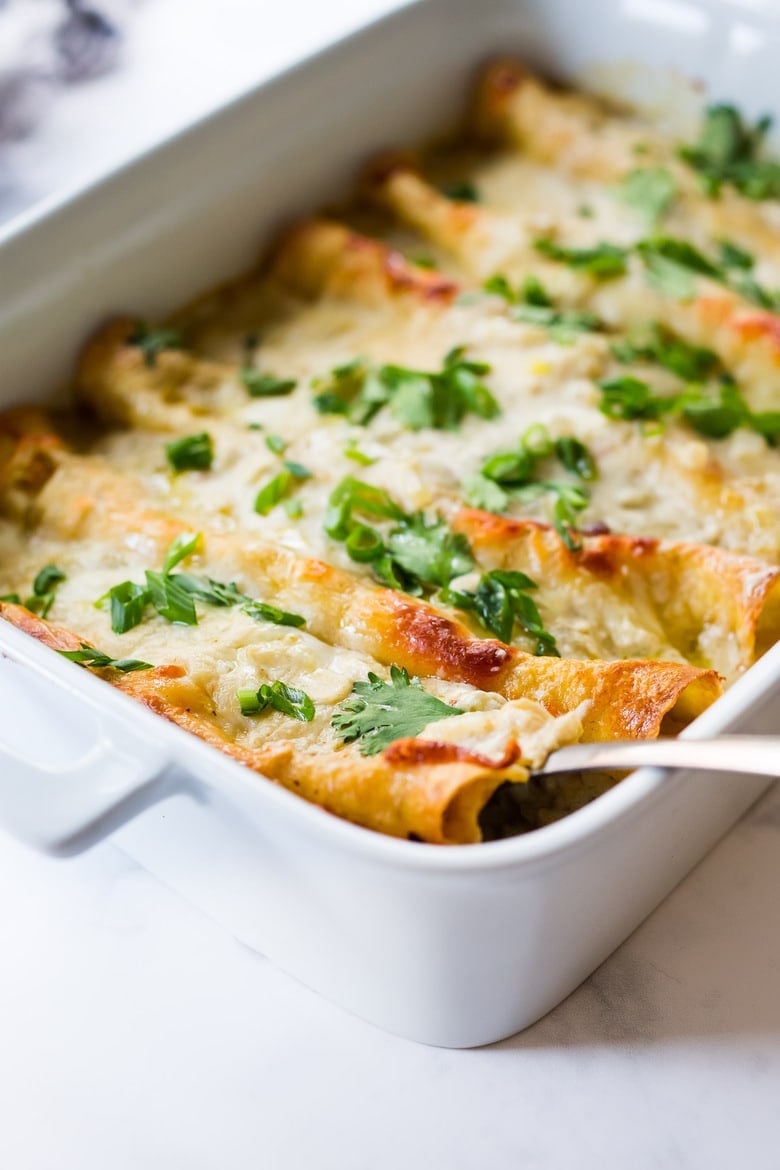 These mouthwatering White Chicken Enchiladas are slathered with the most flavorful green chili sauce! They are vegetarian-adaptable ( sub cauliflower for chicken) and are so delicious, we know you will love them!
CHICKEN MARSALA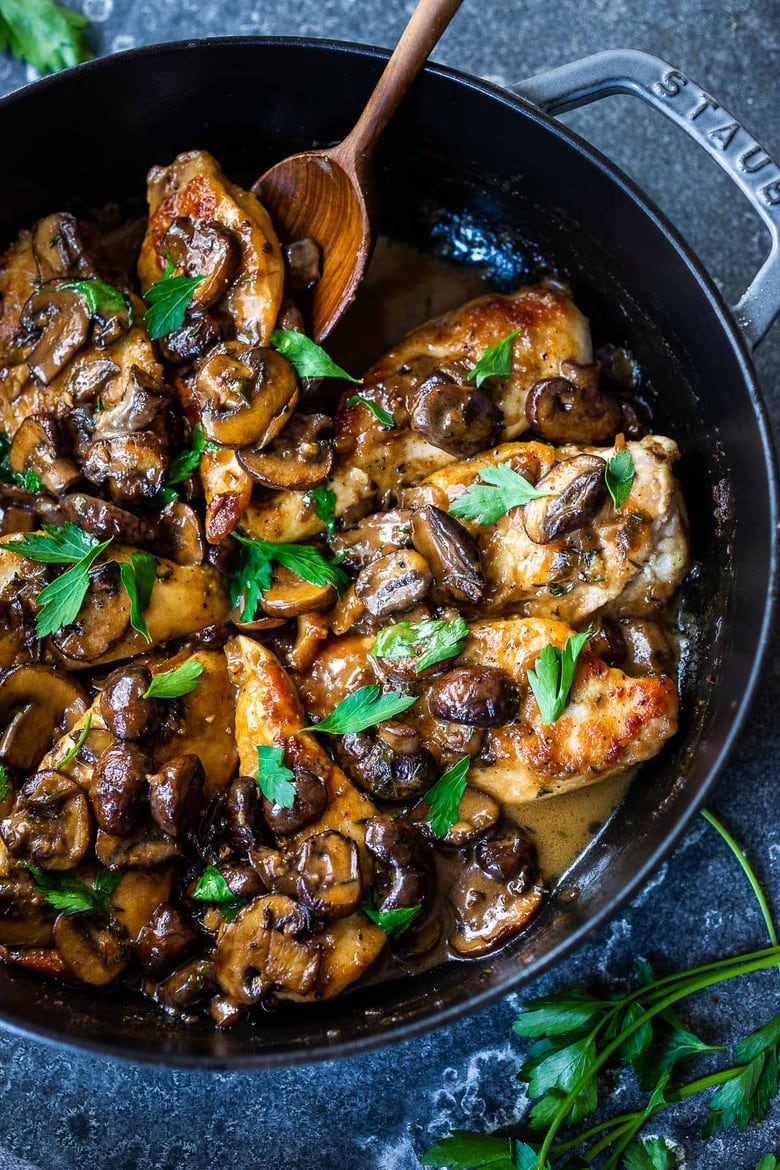 How to make classic Chicken Marsala (with double the mushrooms!) in a rich, earthy, complex Marsala Sauce. Serve over creamy polenta, mashed potatoes or mashed cauliflower for a delcious fall dinner.
RIBOLLITA (TUSCAN WHITEBEAN STEW)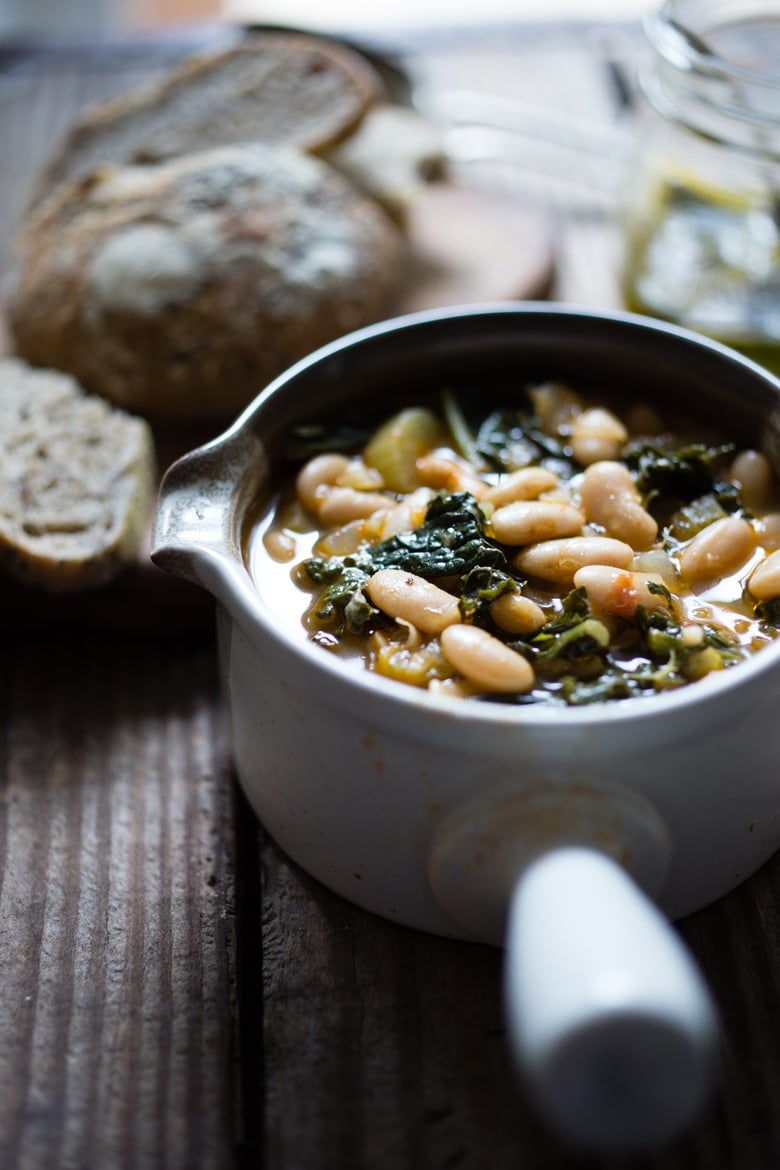 A flavorful hearty stew from Tuscany, called
Ribollita
with Cannellini beans, lacinato kale, and vegetables, served with
crusty bread, drizzled with a Lemon Rosemary Garlic Oil.
STUFFED CABBAGE ROLLS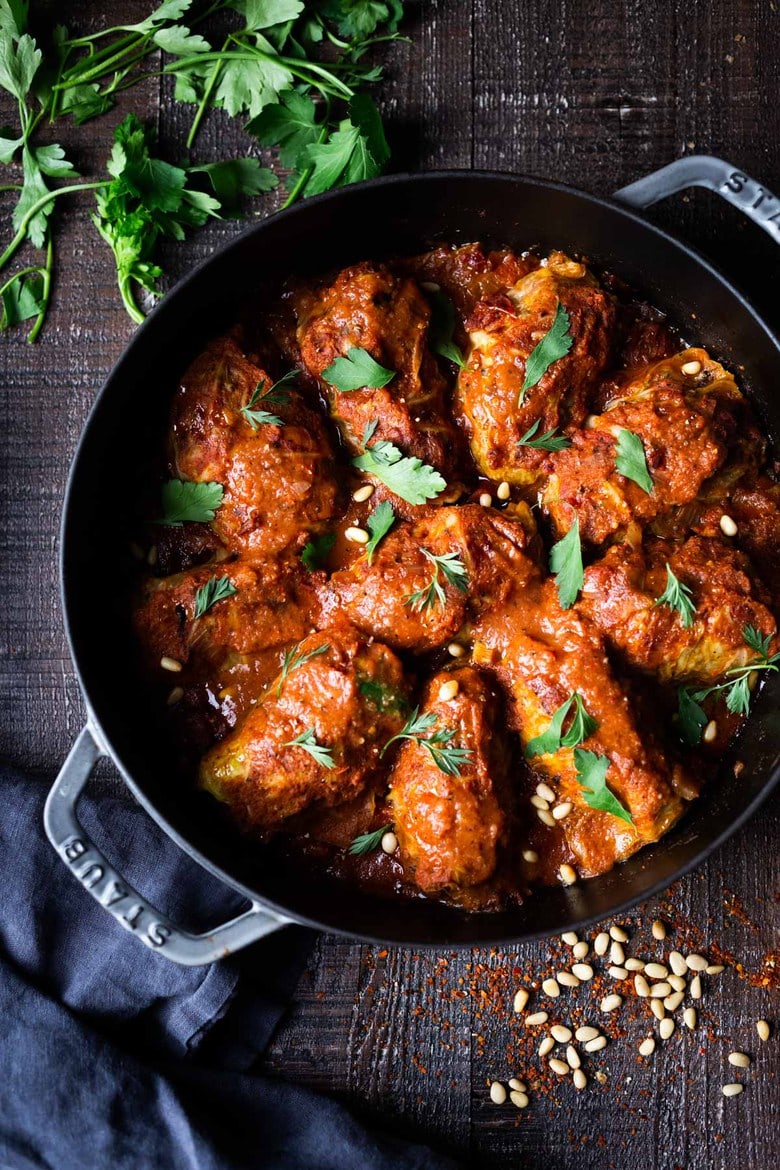 Turkish Stuffed Cabbage Rolls
– filled with ground lamb (or
ground beef) , bulgar,
pine nuts
and fragrant spices, bathed in the most delicious Turkish Tomato Sauce.
TAMALE PIE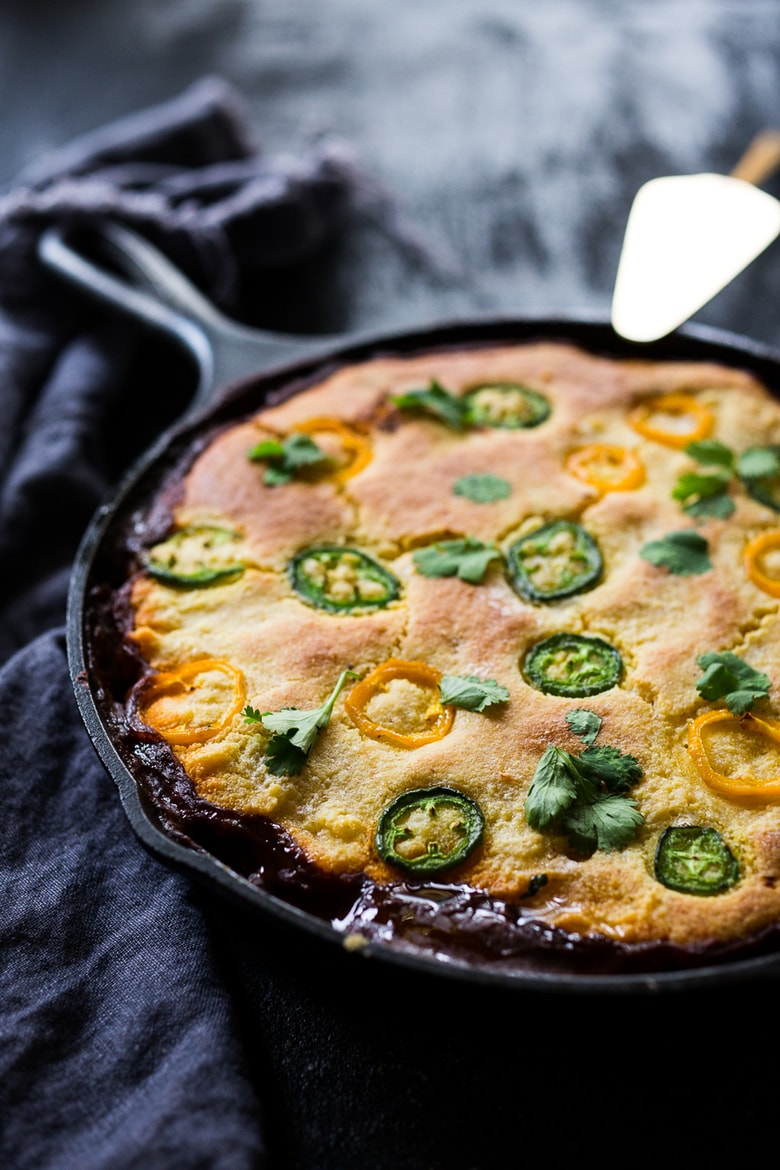 Simple Delicious
Tamale Pie
with your choice of ground turkey, chicken,
ground beef
 ( or use a vegetarian substitute like Beyond Beef) with seasonal veggies, topped with a delicious cornbread crust.
CHICKEN BIRYANI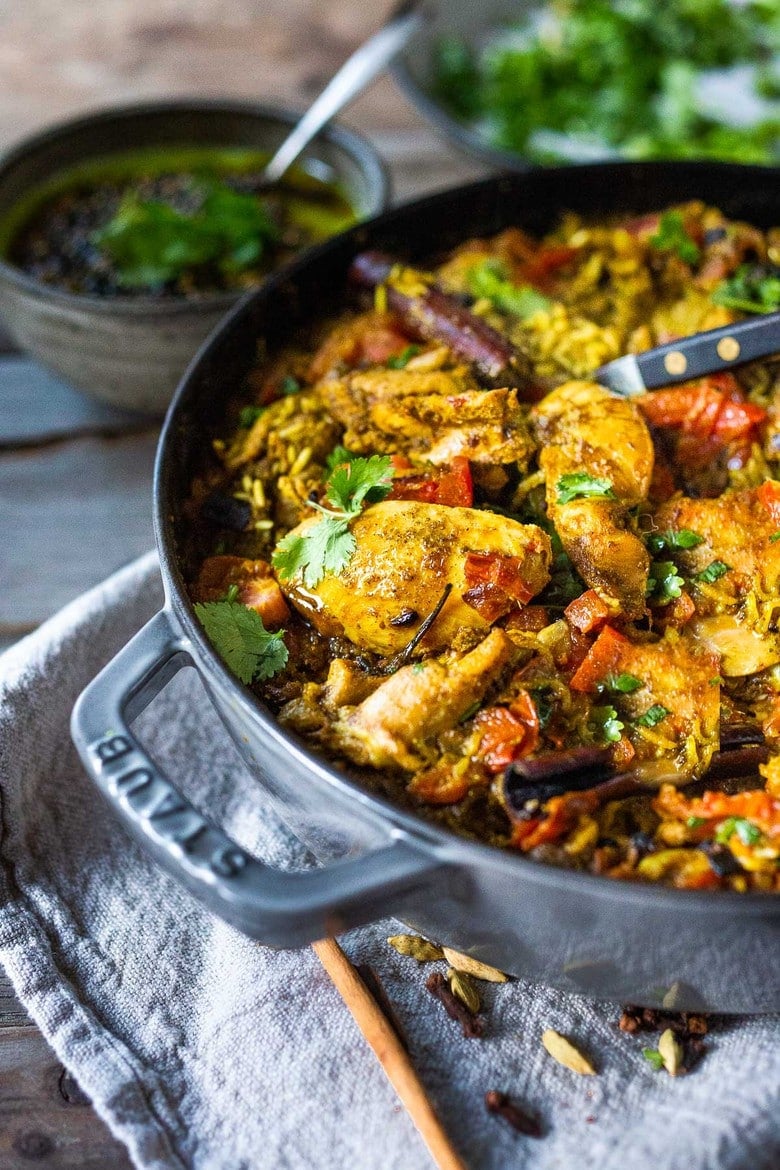 An authentic & insanely delicious recipe for
Chicken Biryani
with Cilantro Yogurt Sauce, the perfect fall dinner.
MOUSSAKA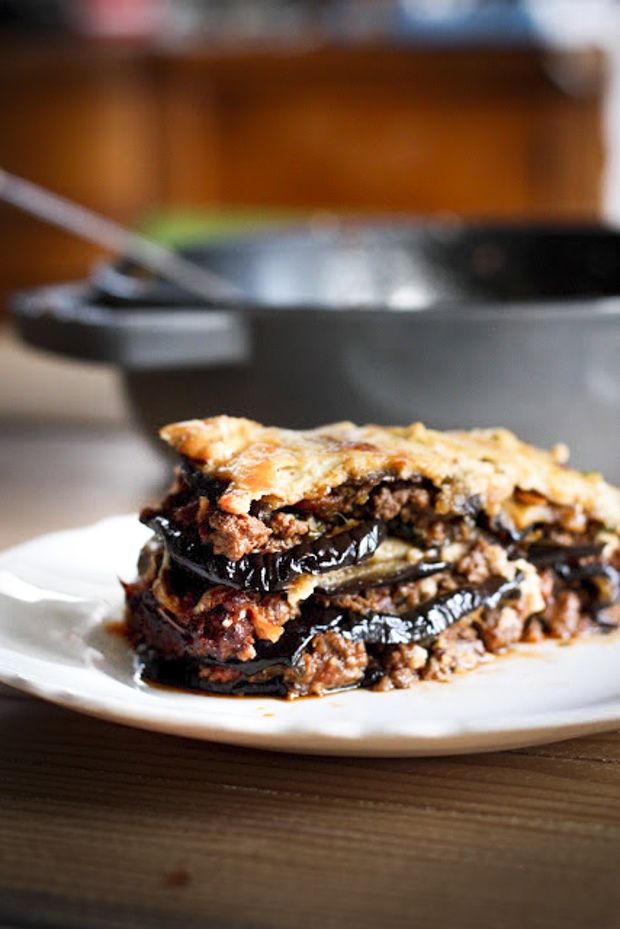 Rustic Eggplant Moussaka– one of my all-time recipes
ever!
This authentic, delicious recipe for Eggplant Moussaka is perfect for chilly fall evenings- hearty and robust, the flavors satisfy!
BUTTERNUT AND POTATO CURRY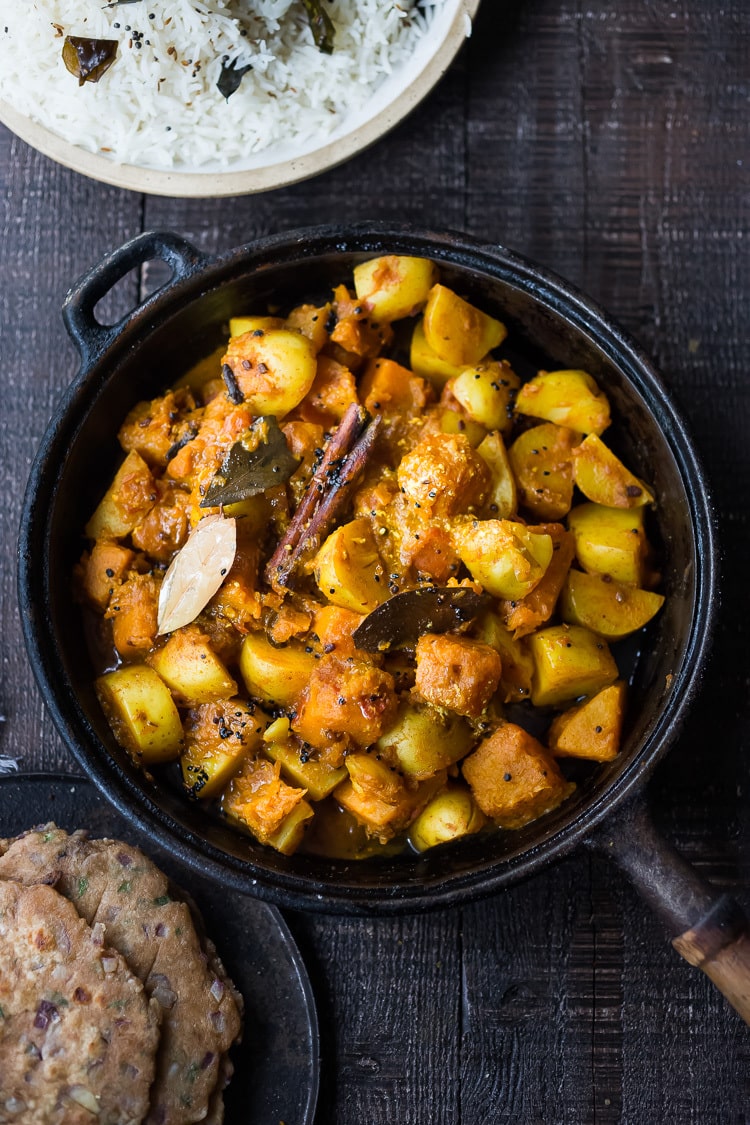 A soothing and comforting North Indian Butternut and Potato Curry hailing from Rajasthan, featuring winter squash and potatoes, using whole spices and
ghee, served over fluffy
basmati rice. A delicious, meatless, fall dinner recipe.
INSTANT POT CHILI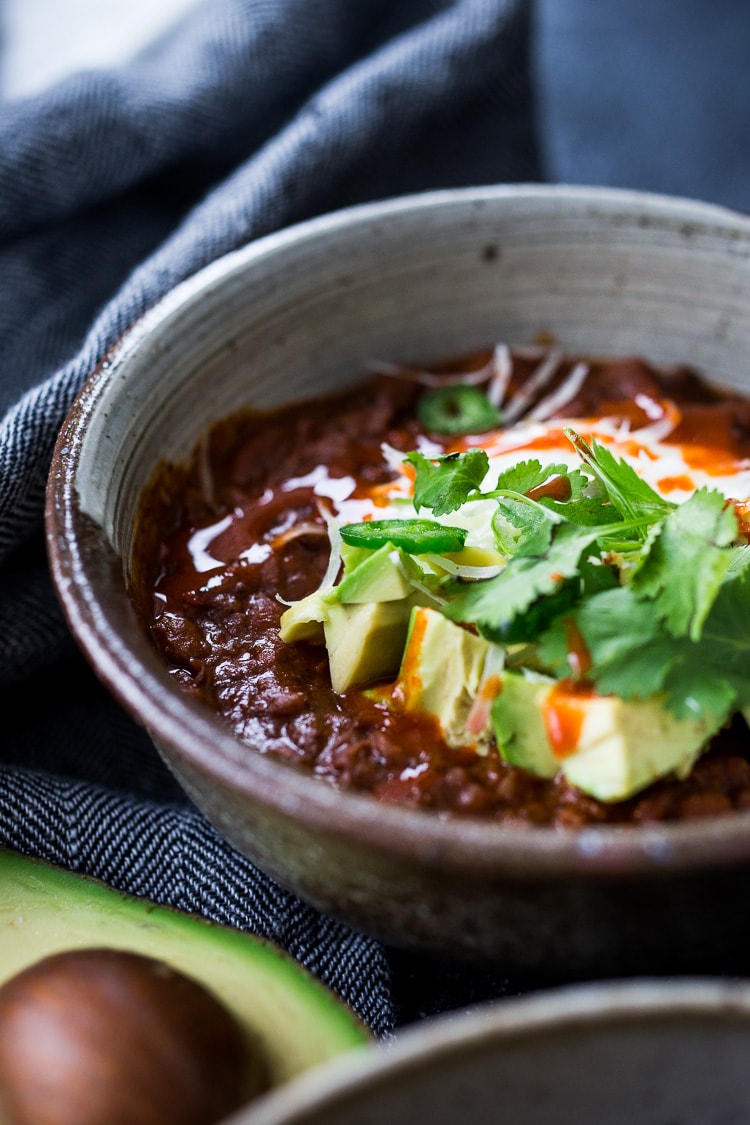 This Instant Pot Chili is simple and easy and can be made with
ground beef, turkey, or chicken, dried beans and no fuss in an Instant Pot! Cozy, hearty and flavorful, this chili is perfect for fall!
STUFFED SHELLS WITH PUMPKIN SAUCE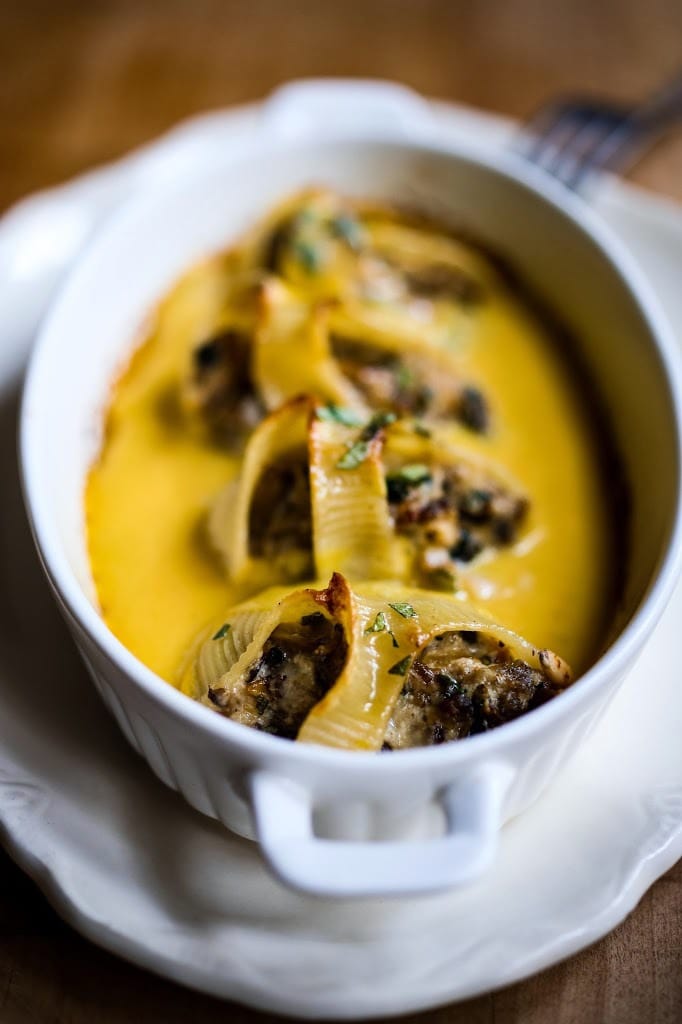 A delicious recipe for
Stuffed shells with Pumpkin Sauce,
with Italian sausage and a creamy Pumpkin parmesan sauce.
BUTTERNUT SQUASH GRATIN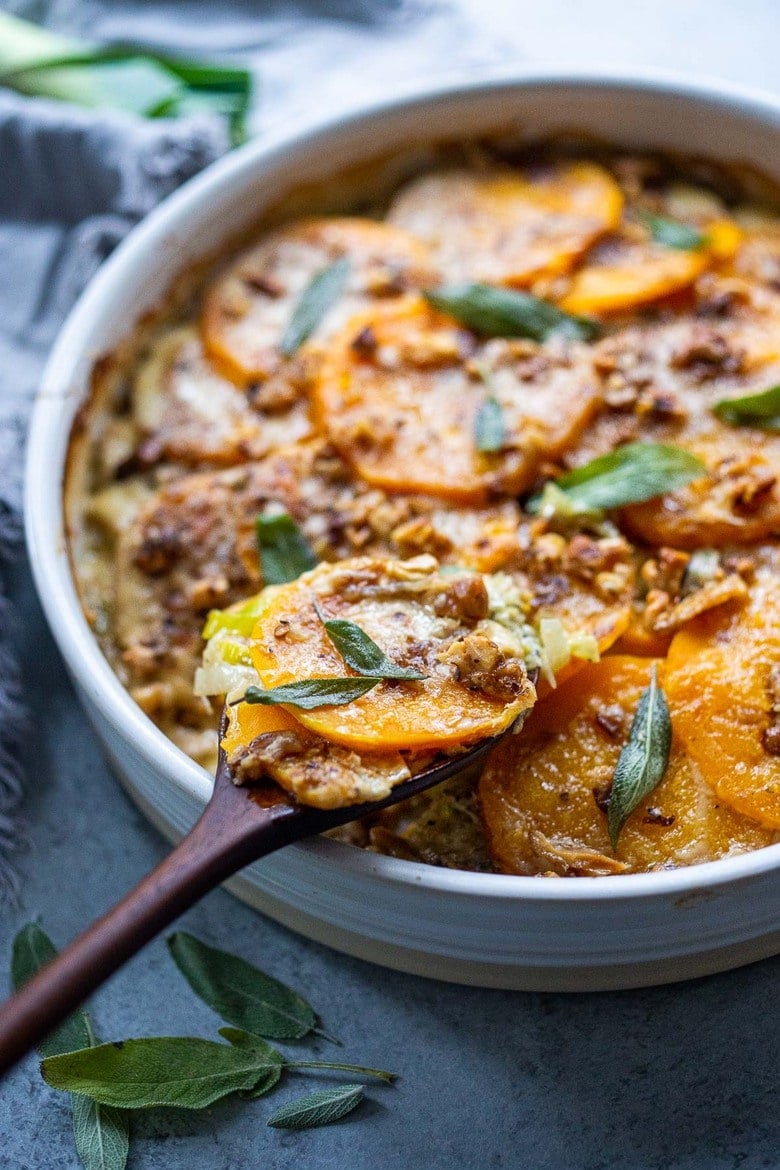 Butternut Squash Gratin
with Leeks, Sage and
Walnuts
– a delicious side dish, or vegetarian main – highlighting the best of fall ingredients, worthy of the holiday table! Vegan-adaptable.
WHITE CHICKEN CHILI WITH POBLANOS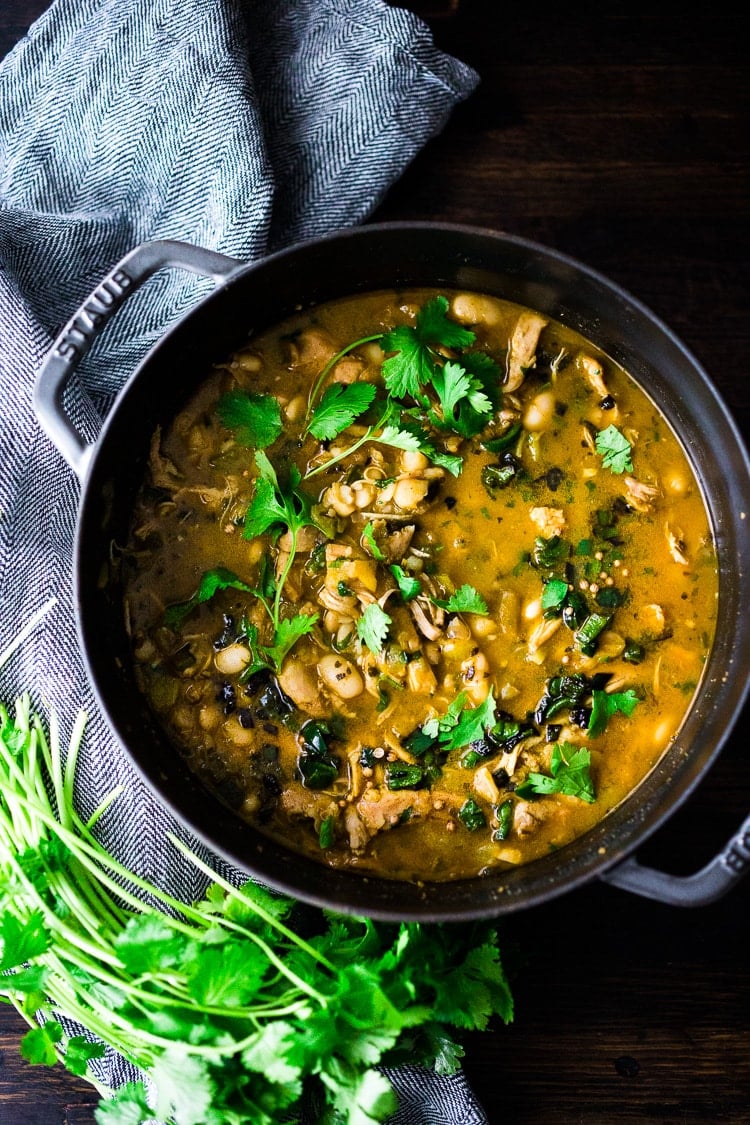 White Chicken Chili is made with white beans, poblano chilies, cilantro, coriander and lime. Tangy, spicy, this one-pot meal is hearty and delicious!
ROASTED CHICKEN WITH LEBANESE 7-SPICE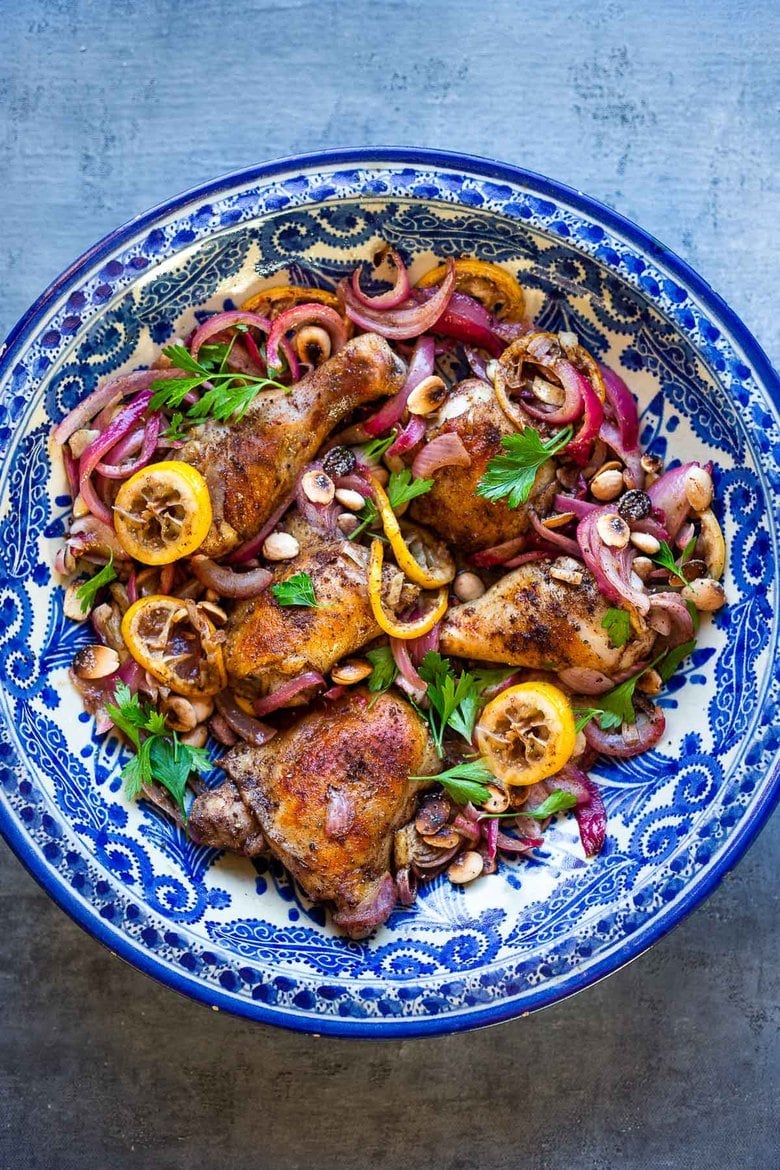 Lebanese Roasted Chicken
with fragrant 7-spice, caramelized onions, almonds and roasted lemon. A simple flavorful Lebanese-inspired dinner, with only 15 minutes of hands on time.
BIRRIA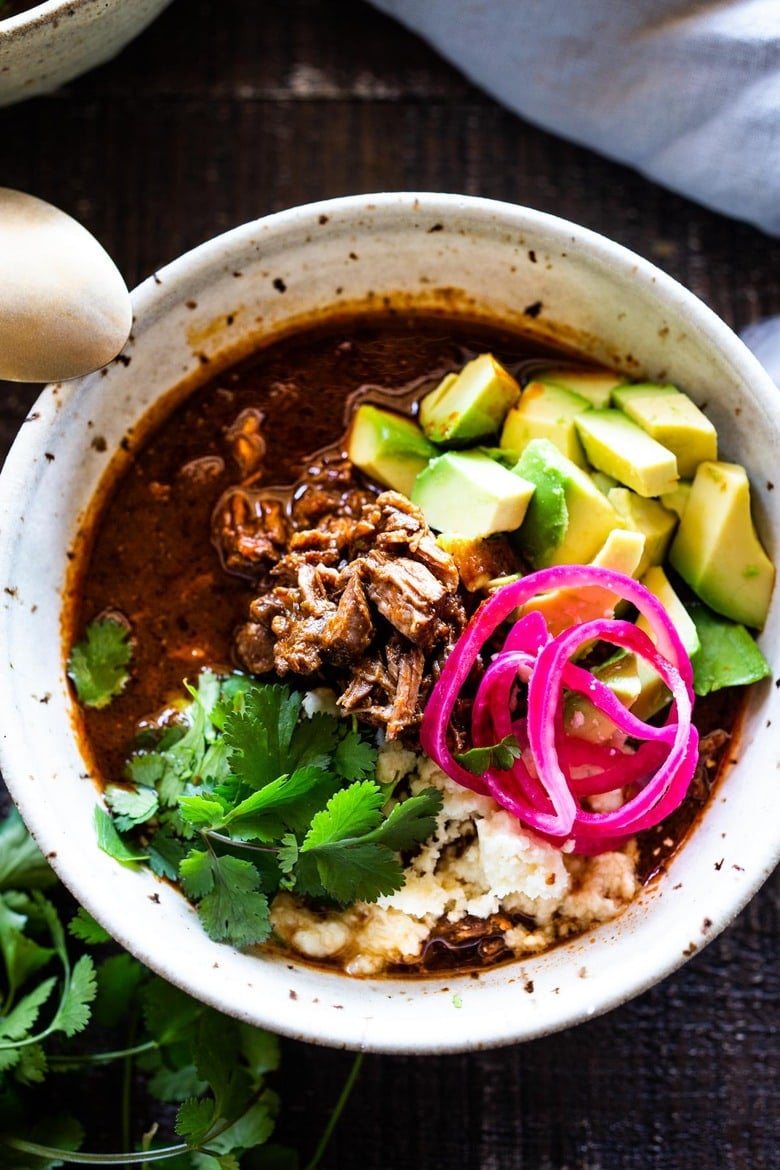 An authentic recipe for
Birria,
a flavorful Mexican Stew made with beef, lamb or goat that can be made in an
Instant Pot,
Dutch Oven
or Slow Cooker. Serve this in a big bowl or make Birria Tacos – the best!
WHOLE ROASTED CHICKEN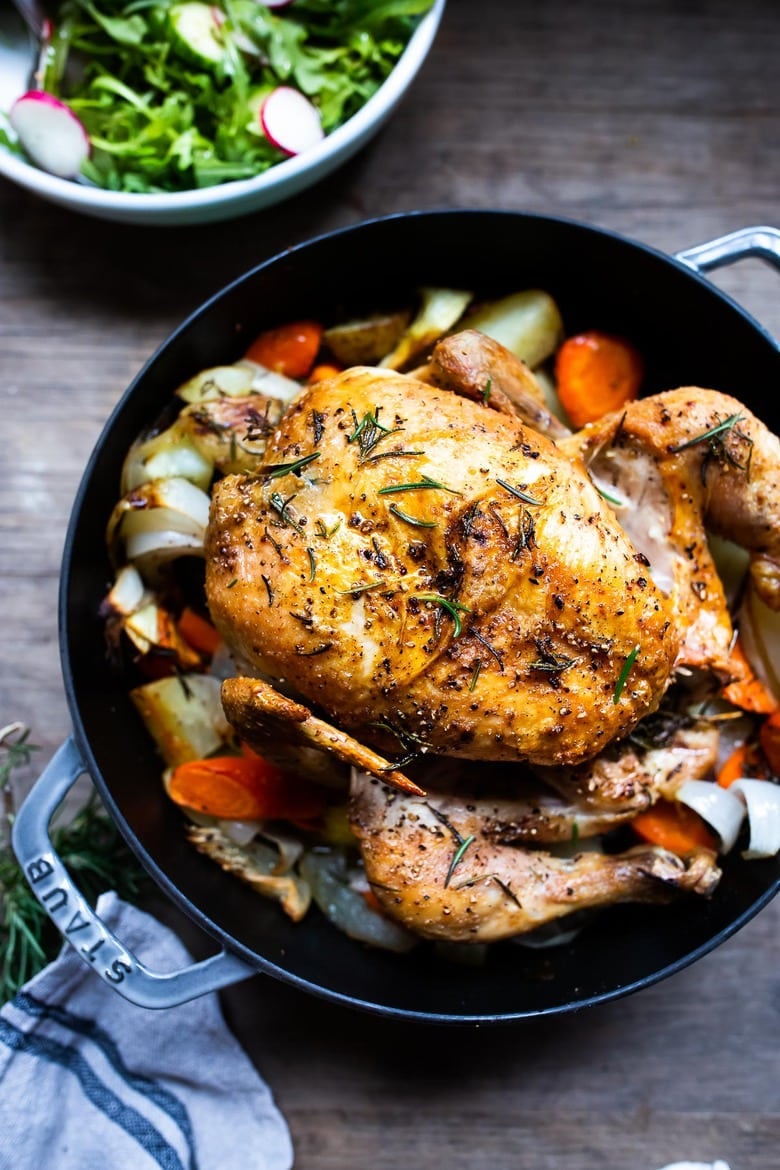 A simple easy recipe for
whole roast chicken
with lemon, garlic and rosemary, baked in the oven over vegetables. A delicious fall dinner idea!
MIDDLE EASTERN LAMB STEW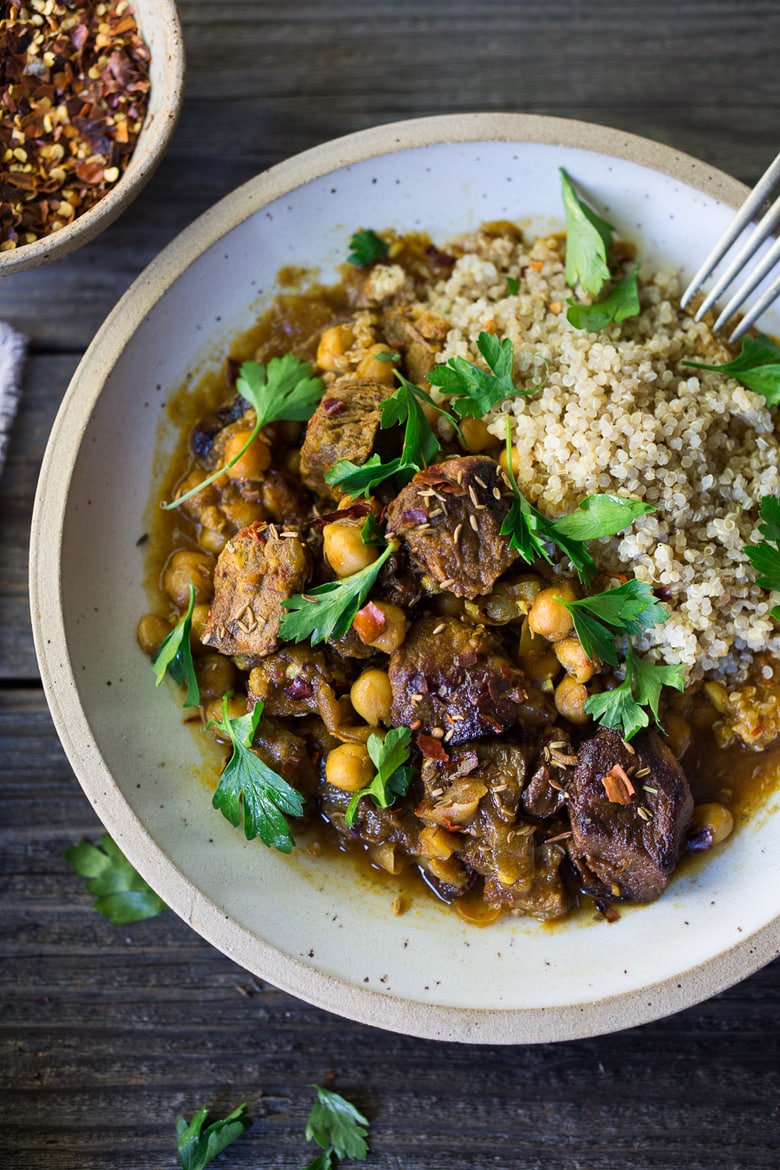 Middle Eastern Lamb Stew
made in an Instant Pot! Comforting, warming and flavorful this fall meal is one of our reader favorites on the blog!
BERBERE CHICKEN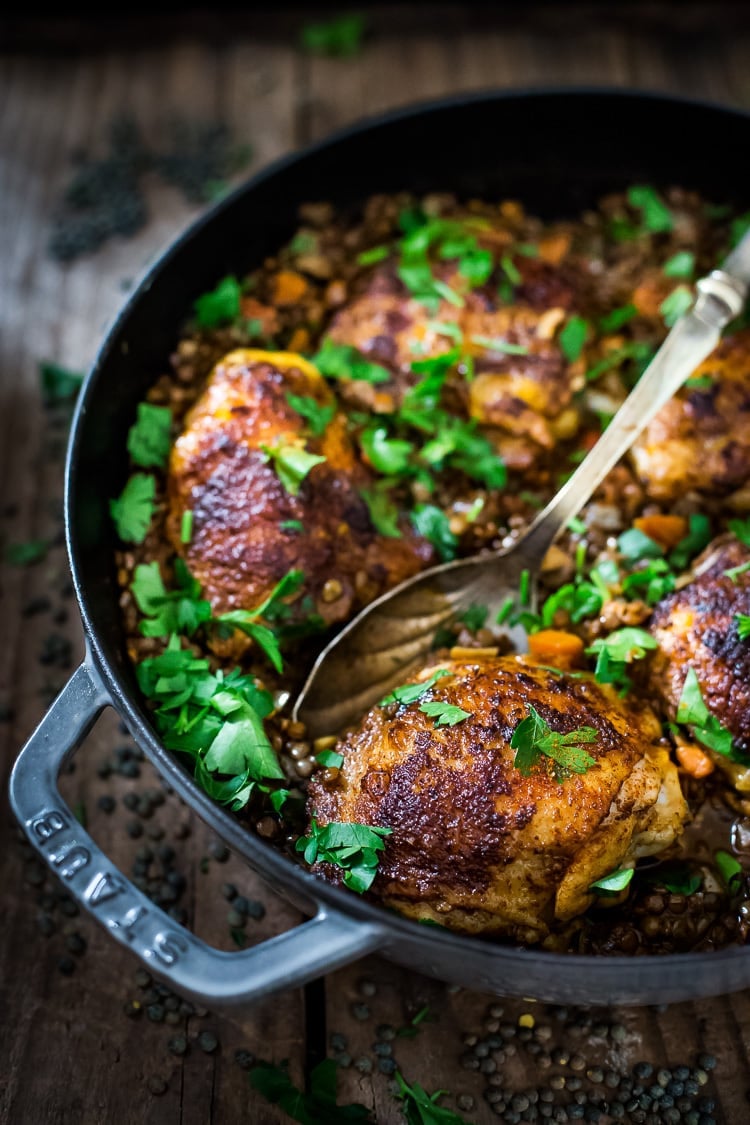 Crispy Skinned Berbere Chicken with Ethiopian Lentils
– a flavorful Ethiopian recipe that features
Berbere
Spice. Warming and flavorful- the perfect comfort food recipe for fall!
SLOW COOKER TURKEY MUSHROOM BOLOGNESE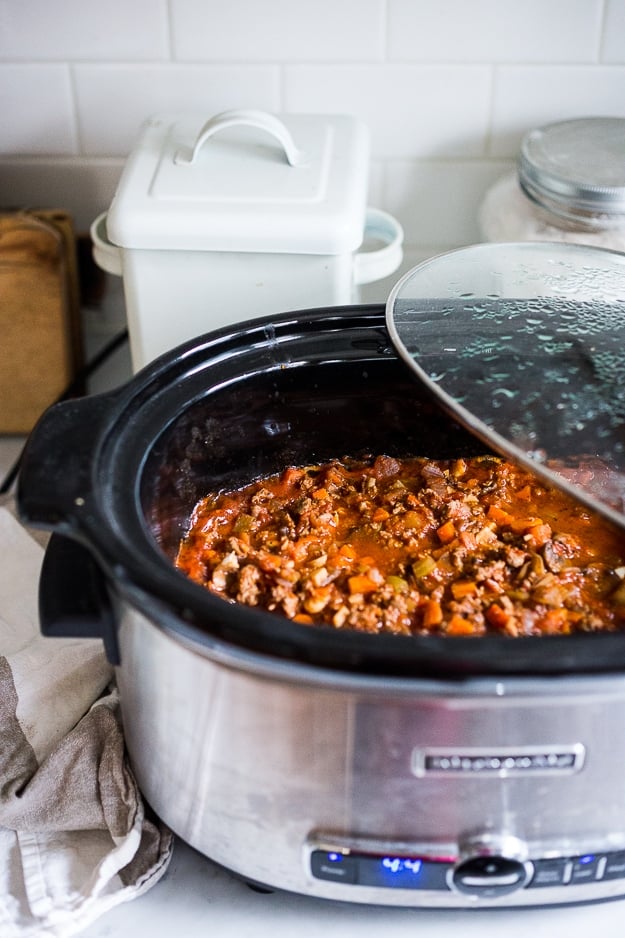 Slow Cooker Turkey Bolognese with Mushrooms A simple recipe for Slow Cooker Turkey Bolognese with Mushrooms- a delicious easy fall meal with lots of depth and flavor.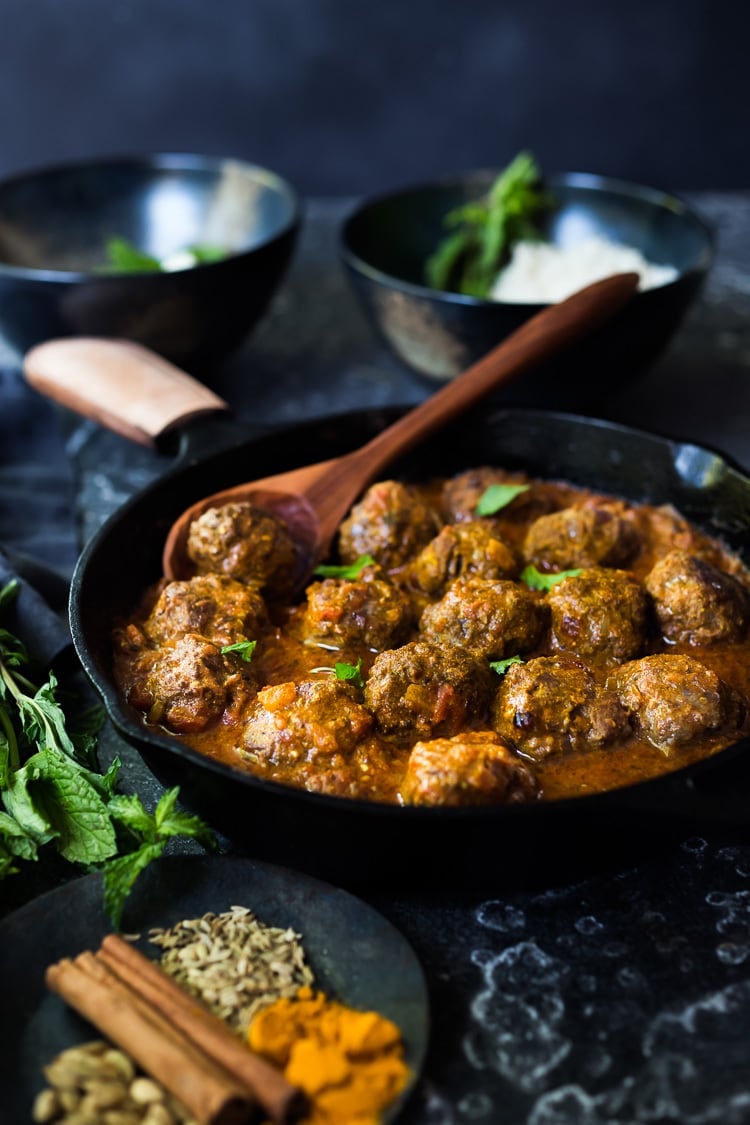 Fragrant Lamb Meatballs with Indian Curry Sauce-
a simple easy fall dinner recipe that is full of flavor! Gluten-free and Paleo!
ROSEMARY CHICKEN LASAGNA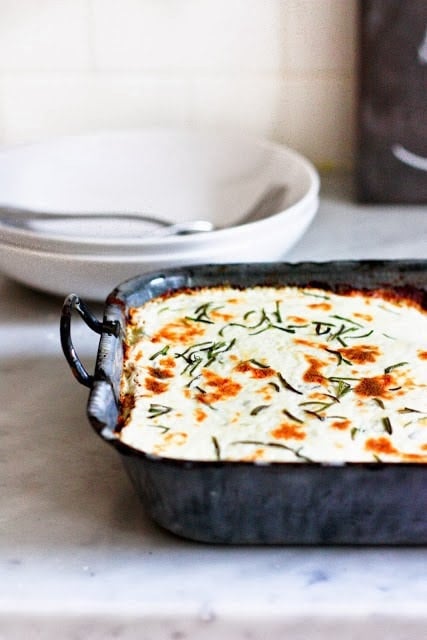 Rosemary Chicken Lasagna
with a flavorful cream sauce. A cozy, comforting recipe, perfect for fall and winter gatherings. Pure comfort food. Can be made ahead.
FESENJAN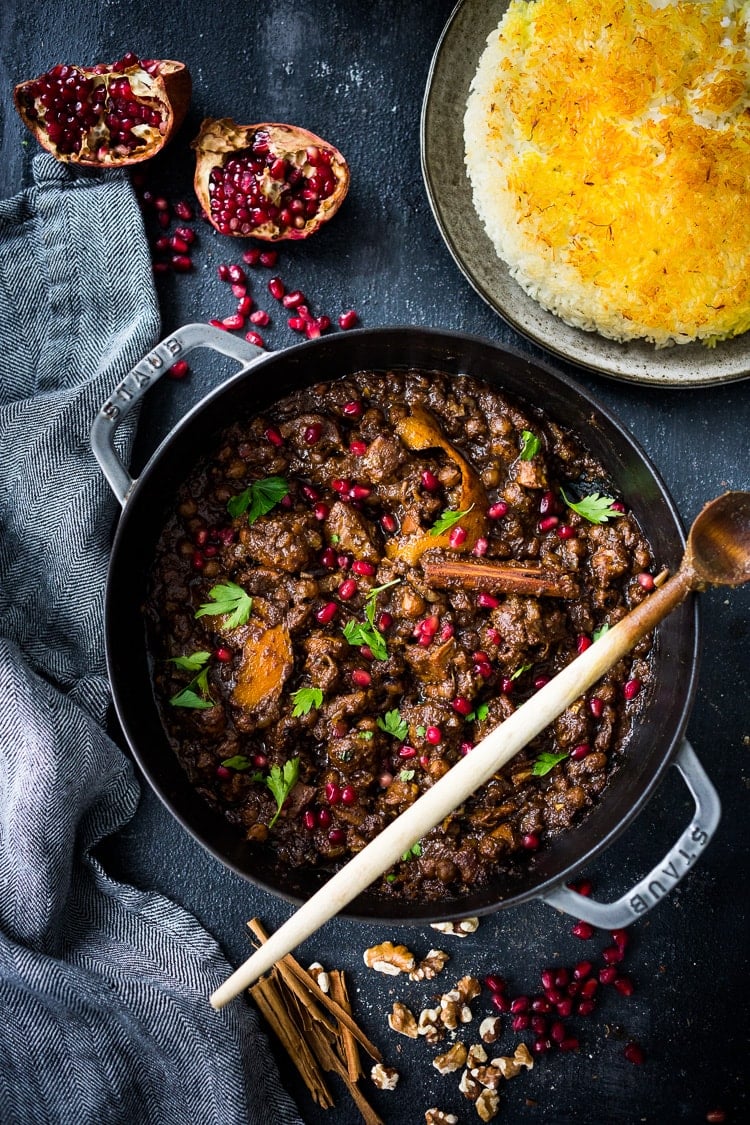 A delicious recipe for
Fesenjan, a luxurious Persian Walnut Pomegranate Stew with chicken and chickpeas. Earthy, rich and tangy, this is bursting with Middle Eastern Flavor! Decadent and rich, serve with
Basmati Rice.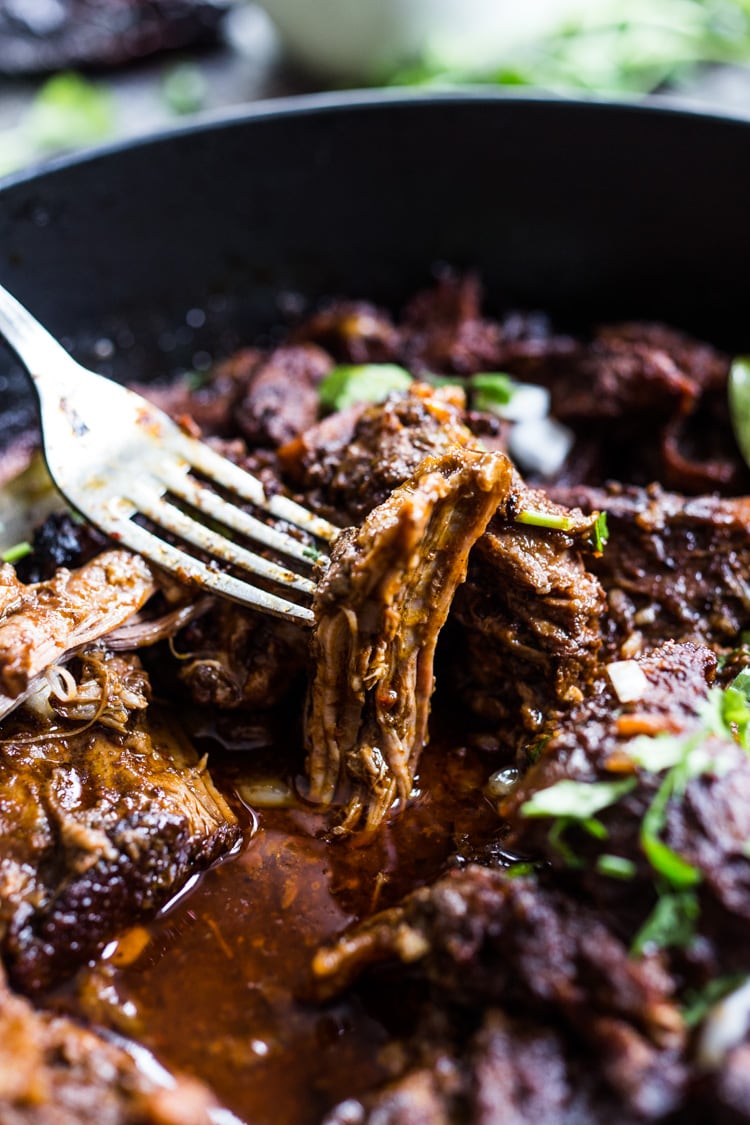 Mexican Lamb Barbacoa
– a simple delicious recipe from Oaxaca that requires slow-roasting and results in the most tender, juicy falling-off-the-bone lamb perfect for tacos,  burritos, or simple over Mexican rice. A flavor fall dinner idea the whole family will love.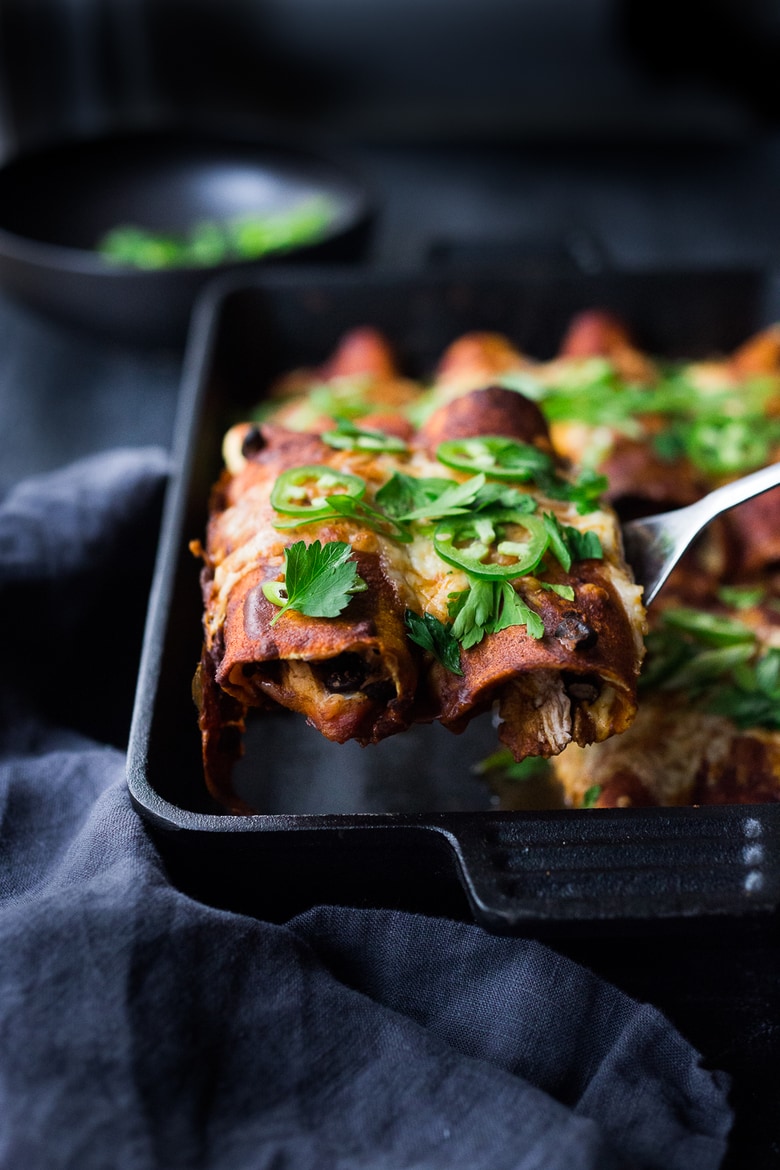 Chicken ( or Turkey) Enchiladas with Homemade Enchilada Sauce
– a cozy fall dinner recipe! Swap out the chicken for leftover turkey for a delicious hearty post-Thanksgiving meal, perfect for chilly fall nights.
INDIAN BUTTER CHICKEN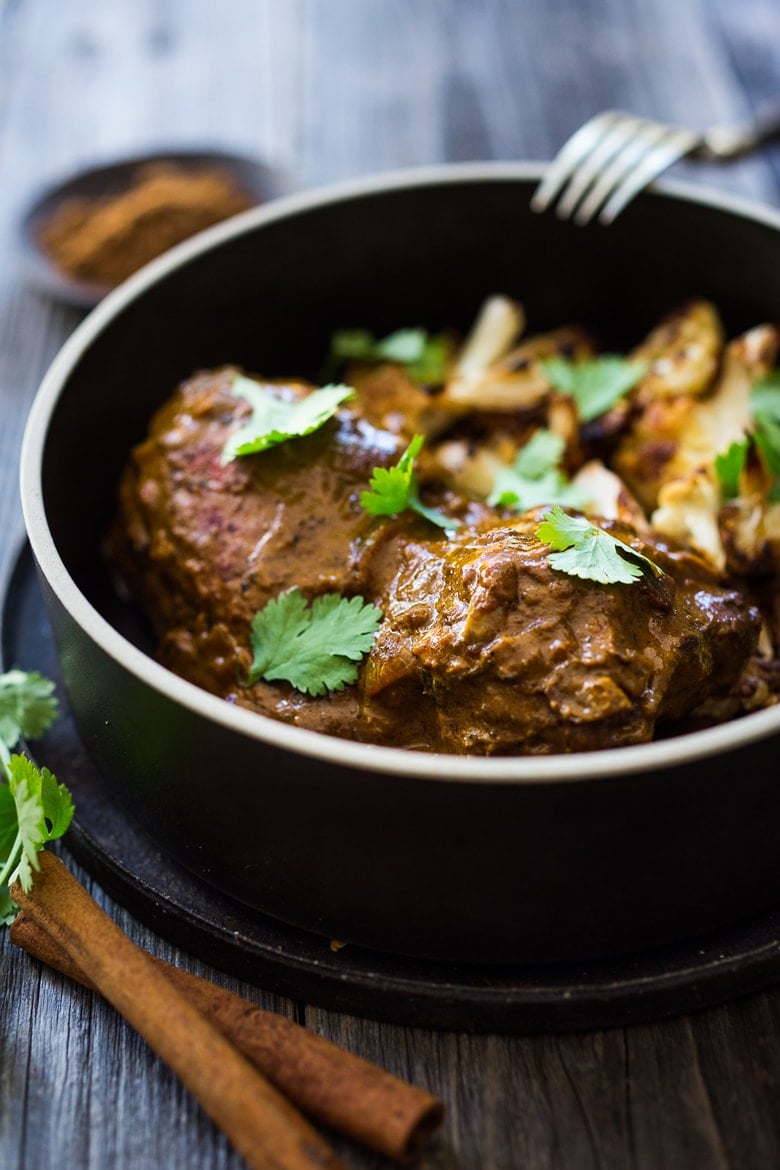 Indian Butter Chicken
(or Cauliflower) with the most flavorful tomato- ginger
Garam Masala
Sauce.  Nourishing, comforting and full of flavor, it truly is the most delicious fall dinner. Vegetarian Adaptable.
FIVE SPICE PULLED PORK TACOS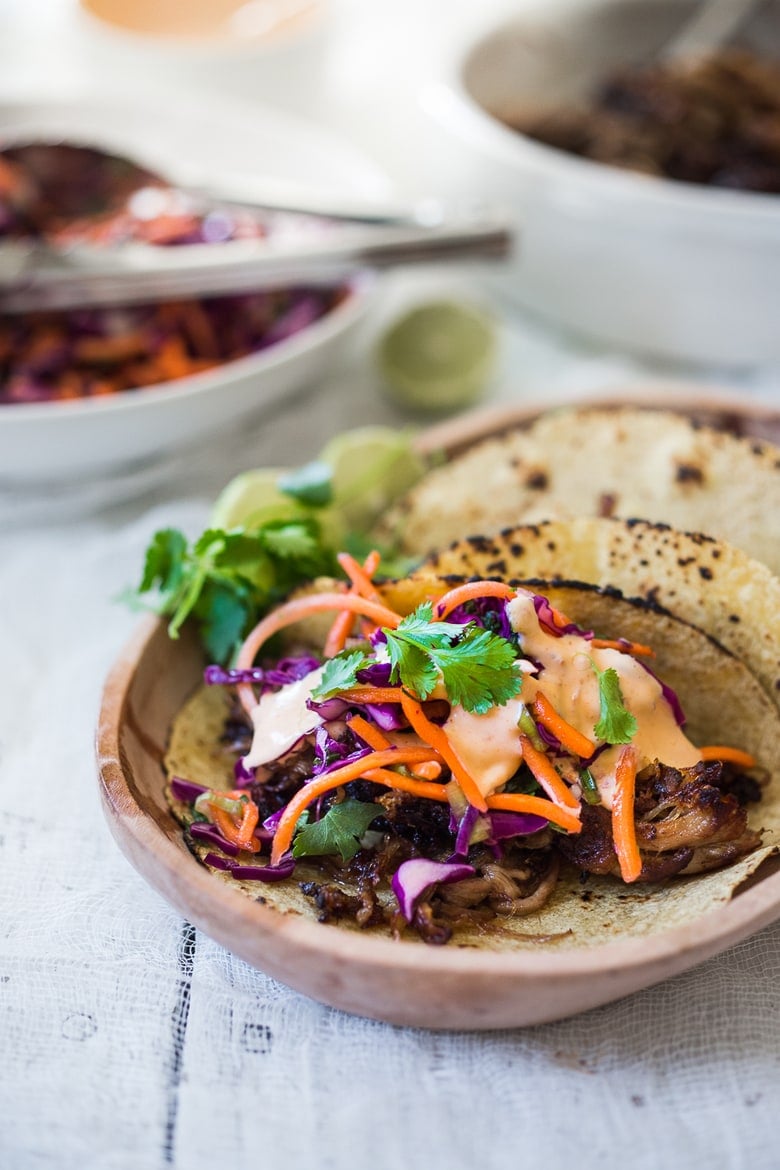 Skip the pork chops and try these slow-roasted Five Spice Pulled Pork Tacos infused with fragrant Five Spice
seasoning and served with Asian Slaw and a Spicy
Sriracha
Mayo.  A flavorful Asian twist on pulled pork tacos!
Give them and try and tell us your favorites below!