The Textile Designer Embracing Imperfection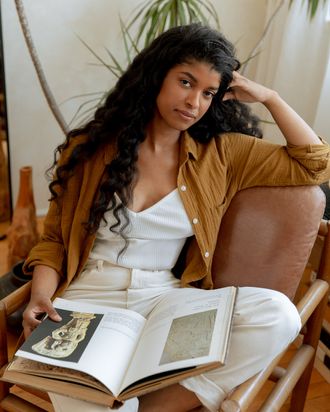 Photo: Courtesy of Élan Byrd
Élan Byrd, an artist and a textile designer, says that her aesthetic, which appears in all areas of her work and personal style, is a reflection of her journey in breaking free from the construct of perfectionism. For her, that means making raffia wall art and handwoven rugs that celebrate texture and organic, earthy forms in modern ways.
"As a designer, what inspires me most is the genius of our ancestors and their use of nature's resources," she told the Cut. "I am moved by what they built by hand, from the buildings they created to the textiles they made — themes that can be found throughout my work."
Most recently, she designed a new rug and pillow collection exclusively for Lulu and Georgia focusing on rich textures and intentional construction. Everything is made from natural fibers like wool and cotton and then handwoven, which Byrd says is an intentional, meditative process that allows her to be sustainable in her practice of creating one-of-a-kind items.
We spoke with Byrd about her favorite artists, checkerboard prints, and Birkenstocks.
What's one piece you've created that is especially meaningful to you?
The Virtues of the Soul prints are a 'meaningful series I created with the intention to serve as a reminder to prioritize the principles, beliefs, traits, and ideals we carry or aspire to attain in our everyday lives.
How do you thank someone for a gift?
Depending on the person or scale of the gift, I usually thank someone with a handwritten note or send them something I've made by hand as an appreciation.
What would you never wear?
I'm a firm believer in never say never. However, at this moment in time, I just can't see myself wearing bright neon colors.
What's your dream vacation?
My dream vacation would be a toss-up between an adventure-seeking trip to New Zealand or a monthlong trip traveling throughout Africa.
What's a good book on your coffee table right now?
I currently have an extra-large copy of some of my favorite artists, Christo and Jeanne-Claude.
Last show you binge-watched?
I've been rewatching and catching up on Succession in anticipation of season three starting this fall.
What's your guilty pleasure?
A slice of vanilla cake is something I never feel guilty about. However, I do try to limit eating it to the random days of celebrating life or whenever I have a little victory career-wise.
The secret to hosting a good party?
Tasty food is of the utmost importance as well as creating a space that has great ambience, set with mood lighting, music, and good company. It all makes for a good party and a wonderful experience.
What is a trend you like right now?
I'm still not over the checkerboard trend, and I especially love a monochromatic version of it.
One you don't understand?
Low-rise jeans. I can't believe they're making a comeback. I refuse to get behind that one.
What's your favorite restaurant in New York?
Back when I used to live in Brooklyn, one of my favorite local spots was Colonia Verde in Fort Greene.
What's the one thing you could eat every day for the rest of your life?
Homemade banana bread or zucchini bread.
Which shoes do you wear most often?
My most comfortable and worn sandals are my Birkenstocks and Avarcas Pons. They've both had a life on their own and will definitely be repurchased when the time comes.
What are three inanimate objects that bring you joy?
I love an item that's practical and beautifully designed. Whether it's a book that provides inspiration for my work, a pair of earrings to adorn myself with, or simply a flat file to help organize my life in the studio, each item adds joy to different areas of my life.